10+1 great summer reads
A special edition 📚🏝☀️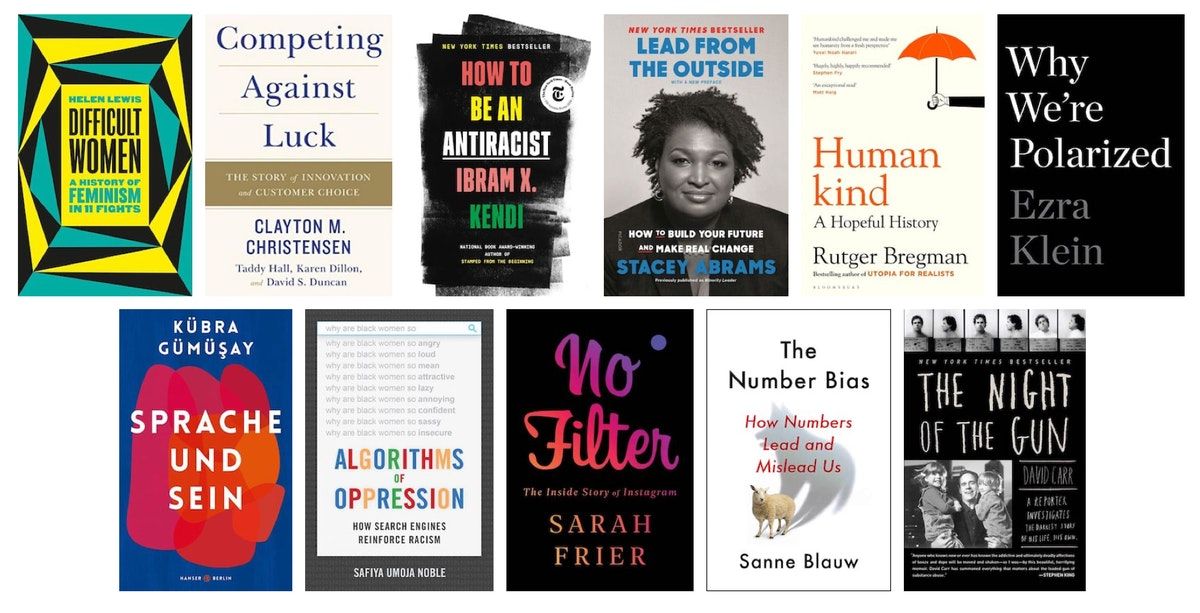 What follows is a highly subjective selection of books, the only criterion for inclusion being: I have read them in 2020 and wholeheartedly recommend reading them (except for one, which is the +1).
Difficult Women — Helen Lewis
Our daughter is still a little too young, but I can't wait to tell her about these «difficult women». Women who fought for their right to divorce, to vote, to work, to take control over their time. What's great about this «History of feminism in 11 fights» is that it depicts the protagonists not as inspirational heroines, but as complicated, imperfect, difficult women — determined to shake things up.
Competing Against Luck — Clayton M. Christensen
Christensen has shaped my understanding of user centered journalism more than anyone else. His «Jobs to be done« theory is an eye-opener for anyone who wants to reach people and customers. When Christensen died in late January this year, I re-read one of his key books —worth every minute.
How to Be an Antiracist — Ibram X. Kendi
To me, the most impactful read of 2020, full of clarity and force. Kendi's key point: You cannot oppose racism by not being racist. You have to be antiracist. The book is both a guide to understanding how racism permeates societies, and a helpful instruction manual on how to be antiracist — what anti-racist actions every individual can take, and what anti-racist institutions would look like.
The Night of the Gun — David Carr
Published in 2008, David Carr's autobiography had been on my reading list for way too long. He writes about his fight against addiction and inner demons, and his path from complete mess to highly respected journalist at the New York Times. Carr uses his extraordinary reporting skills to investigate his own past — to tell his story, which his memory had left distorted and full of gaps. Gripping, extremely well written, and an inspiration (of sorts).
Why We're Polarized — Ezra Klein
When this book was published in early 2020, it was the perfect lens through which to view Trump's impeachment and the upcoming election cycle. Now, with polarization on full display over Black Lives Matter and the US' coronavirus response, it feels even more timely. Klein's core thesis: «America's political system isn't broken. The truth is scarier: it's working exactly as designed.» As with his articles and podcast interviews, he manages to make complex issues easy to understand without trivialising them.
Lead from the Outside — Stacey Abrams
I don't know if there's a term for it, but it certainly is a genre: the I-want-to-be-president-someday-autobiography. That's exactly what I expected from this book, by Stacey Abrams, one of the up-and-coming women of colour in the Democratic party. However, it's mainly a really good book on leadership, from an impressive woman with the experience of a lawyer, entrepreneur, romantic novel writer, politician and voting rights activist.
Algorithms of Oppression — Safiya Umoja Noble
Algorithms are invisible and yet ever present in our lives. They are nothing but mathematical operations, and yet anything but neutral. They reflect — and reinforce — all the implicit and explicit biases their makers have. Noble digs deep into the workings of algorithms, specifically search algorithms, and shows how they work against people of color, sometimes in subtle ways, sometimes by being flat our racist.
Humankind — Rutger Bregman
«A hopeful history» is exactly what we can use in this 2020. Dutch historian Rutger Bregman clinically picks apart common assumptions about human behaviour, from history books to social experiments, to reveal that humans are often kinder than we assume. It's that same approach — distrust common sense, look at actual studies, at look closely — that already made his Utopia for Realists a great book. If you want to restore some faith in humanity, and get smarter along the way, this should be at the top of your summer reading list.
Sprache und Sein — Kübra Gümüşay
(German only) Sprache ist sehr persönlich, und sehr politisch. Sprache verbindet, Sprache grenzt aus. In ihrem Buch beschreibt Gümüsay, wie Sprache im Alltag ihre Wirkung entfaltet, wie Sprache mal gezielt mal unbewusst eingesetzt wird, um Wirklichkeit zu formen. Analytisch und reich an konkreten Beispielen, mit Witz und spitzer Feder geschrieben.
No Filter — Sarah Frier
The, well, unfiltered story of Instagram. It's a quick and entertaining read, and it's many things at once: The fascinating origin story of a cultural phenomenon; a gossipy inside story of success and betrayal; and an excellent business case study of Instagram's integration into Facebook, after arguably the best aquisition deal ever made.
The Number Bias — Sanne Blauw
I haven't read this one yet (it was only just released), but it's the next one on my list. And I'm fairly sure that it will be a great read. Blauw, The Correspondent's «Numeracy correspondent», consistently writes some of the most enlightening articles on data and societies' ways of (mis)handling them.
---
Liked this special edition of the Weekly Filet? Then you might also like the regular issues: Five outstanding links, every Friday. Learn more, check out the archive, or don't overthink it and simply…