📚 The best books you didn't know you'll like
A special edition made by you. Thanks!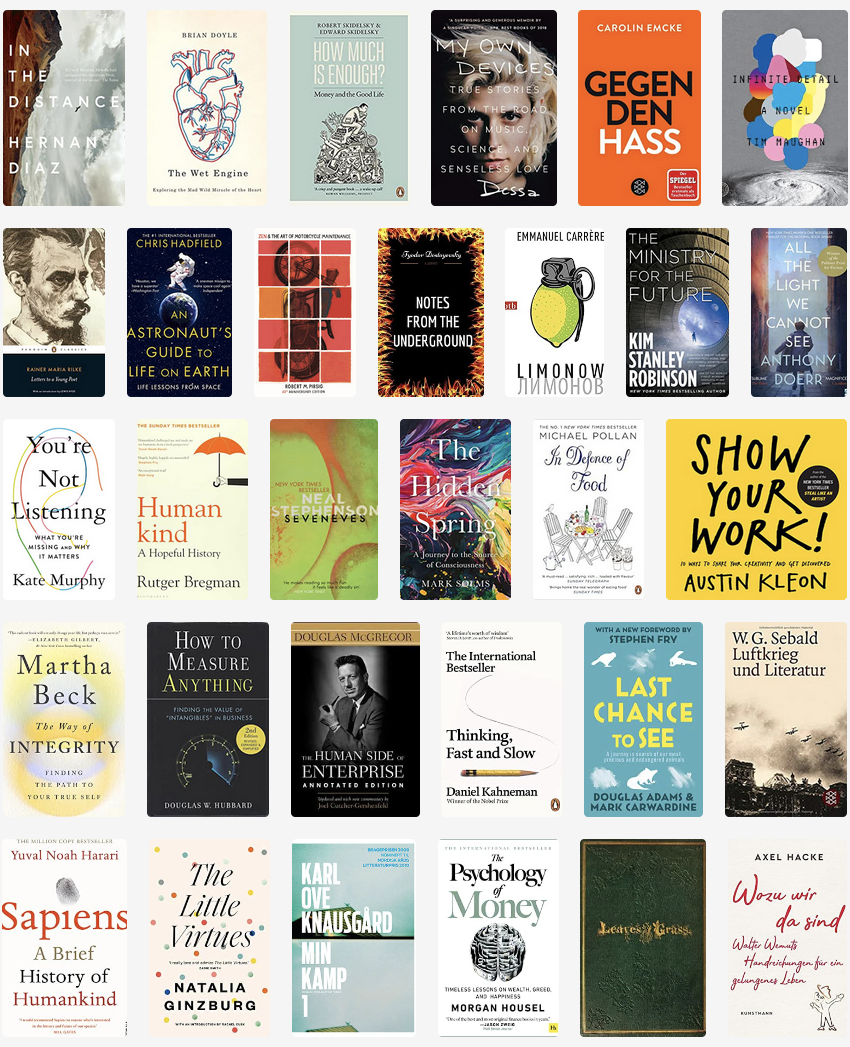 Welcome to a special edition of the Weekly Filet, curated by some of the smartest, most interesting people around: you, the readers.
I asked you: What's a book you think more people should know? You sent me dozens of suggestions, with compelling explanations (the shortest one: a mere 7 characters). Only two books were submitted twice.
Going through the list, I noticed something that told me it's a very good list: Most of the books were new to me, yet those that I knew, are all great. So I'm fairly positive you'll find your next great read in there, and then some.
Now, for you fellow Tsundoku-ans, I know what you're thinking: Your pile of unread books is high enough already. Sorry not sorry, but I do have a bit of advice for you: embrace your antilibrary.
Happy reading!
— David 👋
PS: This post is free to read for everyone. Feel free to share it with someone who appreciates a good book recommendation.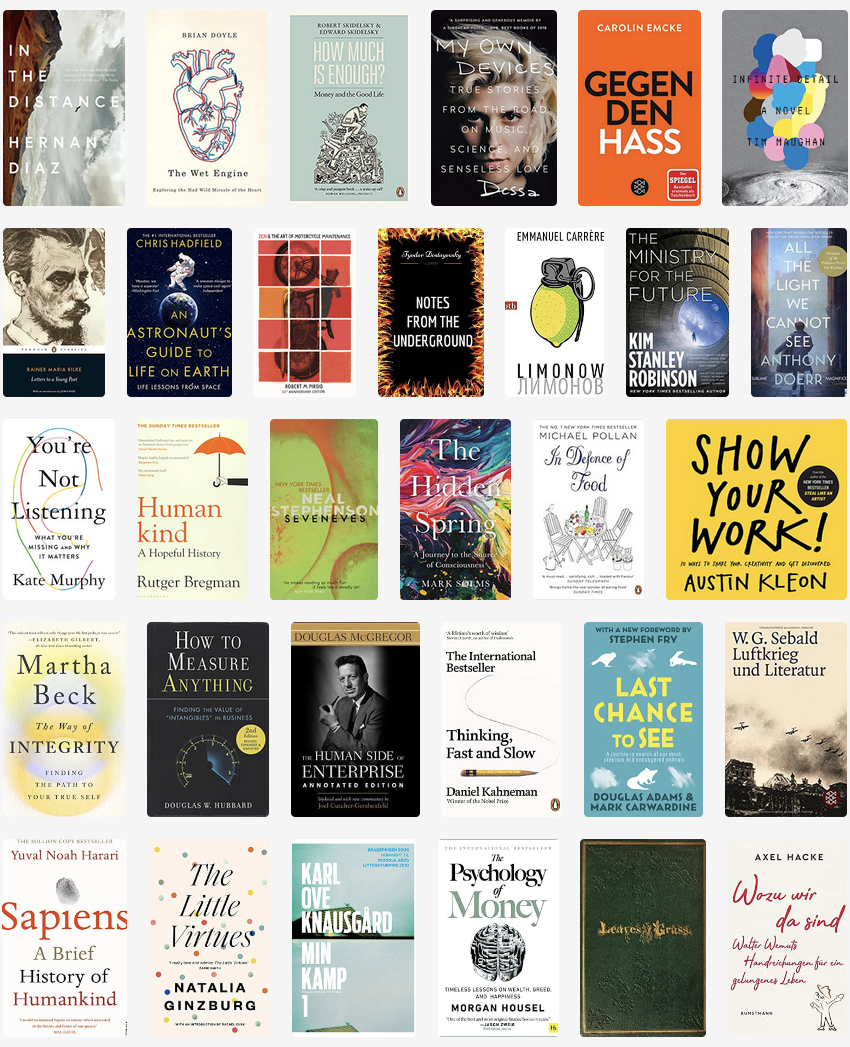 The Wet Engine, by Brian Doyle…
This thin book of essays explores the heart – as an organ and as a metaphor. It's written by a father whose son was born with a damaged heart, so it's about fatherhood and love and gratitude and the fragility of life. And hummingbirds. Consider the hummingbirds, too. — Julian Schmidli, reader, father, hummingbirdian
You're Not Listening, by Kate Murphy
…It completely changes the way you perceive conversations. And ideally makes your relationships more meaningful — Theresa Palm, science journalist
Into the Distance, by Hernan Diaz
A beautifully written gripping story of a Swedish man's journey across the US in search of his brother, set during the gold rush era. — Cassie
My Own Devices, by Dessa
…Incredible storytelling, smart language, and insightful memoir. — Genie Gratto, Storyteller
How to measure anything, by Douglas Hubbard…
We always know more than we think, so don't fall back to gut feelings. — Peter Gassner, perspectivist
Zen & The Art of Motorcycle Maintenance, by Robert M. Pirsig…
To me, this book is three journeys at once: first, a motorcycle tour through the American midwest. Second, a journey through the heart and mind of its protagonist and his relationships to the people around him. And third, a journey through the biggest philosophical questions of humanity. It is a wondrous book, filled with deep emotions of happiness and failure that will leave you a bit wiser. — Florian Stambula
The Way of Integrity, by Martha Beck
…Shows you the path to a happier, purposeful life. I mean, really. — Andrea Jansen
In Defence of Food, by Michael Pollan…
Getting real about food, so you don't get hung up on the next food fad.
All the Light We Cannot See, by Anthony Doerr
…A phenomenally imaginative tale set against the drama of Second World War Europe; tender, descriptive, captivating and with no shortage of high-octane energy to keep things ticking along nicely. — Sam Duby, promiscuous reader
Letters to a Young Poet, by Rainer Maria Rilke…
Quotes like this are aplenty within it: "Be patient toward all that is unsolved in your heart and try to love the questions themselves, like locked rooms and like books that are now written in a very foreign tongue. Do not now seek the answers, which cannot be given you because you would not be able to live them. And the point is, to live everything. Live the questions now. Perhaps you will then gradually, without noticing it, live along some distant day into the answer." — Tom White, Writer
Ministry of the Future, by Kim Stanley Robinson
…It makes the potential effects of the climate crisis in the near future tangible. — Nikki Böhler, social entrepreneur
An Astronaut's Guide to Life on Earth, by Chris Hadfield…
His own extraordinary education in space has taught him some counterintuitive lessons: don't visualize success, do care what others think, and always sweat the small stuff. — Michel Bertschy, curious generalist (and shameless copier)
Notes from the Underground, by Fyodor Dostoyevsky…
Touches on the deepest and darkest parts of self awareness — Thomas To, product manager
Seveneves, by Neal Stephenson
A great depiction of how humanity would respond to an immediate threat to its existence (no spoiler it happens on page 2 - the moon explodes). It spins the story from the current time into the far future with thought-provoking implications. A great reminder of how volatile we are on our tiny blue planet and that if we would need to run and find a new place it would be pretty hard. — Karin Aue, humble problem solver and excited sketch artist
Show your work, by Austin Kleon…
Encourages to show their work which ultimately helps them creators instead of just being a consumer. — Vidya, Curator of thecuriousbunch.xyz
Down and Out in Paris and London, by George Orwell
Yes, Down and Out in Paris and London is written by the author who wrote 1984 and Animal Farm. Once you have read this novel, first published in 1933, you will probably gain a new perspective on eating out in fancy restaurants in Paris and on tramps walking around the streets of London. Orwell, who himself experienced living in these two capitals penniless, searching for a job and somewhere to stay for the night, tells us quite a bit about hierarchies among the staff in hotel-kitchens in Paris and among tramps and beggars in London. Though dealing with the dire situations in London and Paris in the 1920s, it is not only a book interesting from a socio-historical point of view, it rather paints a timeless picture of what it means to live or survive without work and without money, down and out and on the road. — Peter Bauer-Musfeld, retired teacher
Limonow, by Emmanuel Carrere…
He has been a young punk in Ukraine, the idol of the Soviet underground; a bum, then a multimillionaire's butler in Manhattan; a fashionable writer in Paris; a lost soldier in the Balkans; and now, in the fantastic shambles of postcommunism, the elderly but charismatic leader of a party of young desperadoes. — Anil Özdemir
Origin of consciousness! Revolutionary theory about affects as basis of consciousness instead of cognitive prefrontal functions. Neuro-psychology endorsed by Erik Kandel, Brian Eno and Siri Hustvedt — Jakob Ritzkat, psychoanalyst and photographer
The Human Side of Enterprise, by Douglas McGregor…
Essential because it opens your eyes about how you see the human behaviour in enterprises. — Beat Kunz, transformer
Infinite Detail, by Tim Maughan…
People should know more about our growing dependency on network technology and digitalization. Infinite Detail shows a scenario which at a first glance seems to be far in the future. — Hauke, who works in tech but knows tech won't save us
Killers of the Flower Moon, by David Grann
…An amazing story and a chapter of American history that has been completely forgotten. — Matt Koidin
Humankind: a hopeful history, by Rutger Bregman…
Challenges many assumptions underlying the very foundation of our societies — Tobias Adler, Product Manager with endless curiosity about the way our universe works
Sapiens: A Brief History of Humankind, by Yuval Noah Harari…
To understand, how small humankind and our time calculations are. — Peter Herger, curious entrepreneur
How much is enough?, by Robert & Edward Skidelsky…
A great reflection on how to define «a good life». — Angela
Recommended twice
Last chance to see, by Douglas Adams
…1️⃣ A brilliant book on conservation of endangered animals and nature. It is filled with classic Douglas Adams' wit and humour. Very poignant as well — Rakesh, conservation enthusiast.
2️⃣ Humorous take on humans and their role in conservation of endangered species — @philshem
Thinking, Fast and Slow, by Daniel Kahneman…
1️⃣ This book helped me learn about and reflect on so many unexpected things our brain does or doesn't do. Kahneman's concepts make me see the world differently. — Lea Rieger, passionate software developer
2️⃣ Shows how susceptible we are to self deception. — Lorenz, slow thinker and curious
Shortest recs
Little Virtues, by Natalia Ginzburg: Beautiful collection of essays that feel universal.
Harry Potter, by JK Rowling: It's such a great series of books
The psychology of money, by Morgan Hausel: Superb on money psychology.
Min Kamp, by Karl Ove Knausgård: Perfect storytelling.
Leaves Of Grass, by Walt Whitman: Captain, oh captain.
All the light we cannot see, by Anthony Doerr: The plot.
Deutsche Bücher
Gegen den Hass / Against Hate, by Carolin Emcke…
Beautifully written; clear language; strong arguments. — Jonas Parnow
Zwei Grad. Eine Tonne, by Christof Drexel…
In a clear, fact-based, well-argued manner, the author describes how the energy transition would be possible. — Elisa Miebach, German journalist specialised in energy and climate
Wozu wir da sind, by Axel Hacke…
Der schönste mäandernde Monolog über den Sinn des Lebens. — Tobias Dehler, Mensch
Über Leben, by Dirk Steffens / Fritz Habekuss
…Gives a good overview on biodiversity and its complexity as well as why it is so urgent to protect it. — Pascal Albisser, Data Journalist
Luftkrieg und Literatur, by W.G.Sebald…
Combination of literature analysis, cultural history and social psychology — LZ
📚📚📚